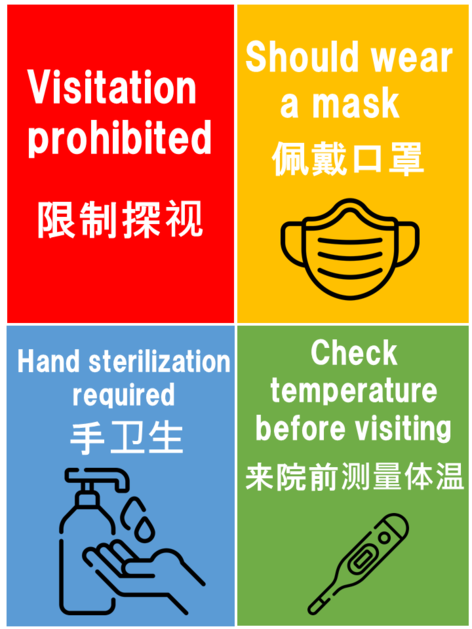 In order to provide secure medical environment, our hospital is taking all possible measures to prevent and control infection.
We kindly ask for cooperation to every person, including outpatients and their attendants to follow the rules below.
Visitor restrictions
In order to prevent COVID-19 infection and ensure safety of patients, visitation is permitted only if requested by the hospital.
Please read through the website "Visitation Restriction" in advance when visiting is requested by the hospital.
Wearing mask
We ask every person entering our hospital to wear a mask.
We ask all patients, attendants and visitors to wear a mask covering both nose and mouth in order to prevent infection transmitted by cough and sneeze. Please purchase at the hospital convenience store if you do not have one.
Sanitizing hands
Please sanitize your hands with disinfectants set at the entrance when entering and leaving the hospital.
Measuring temperature
Please measure your temperature before visiting the hospital, and inform the desk when you have fever.
We are sorry for the inconvenience.
Thank you for your understanding and cooperation.